With a little elbow grease and some clever wallpapering, your luxury bathroom can be transformed into an oasis of luxury.
Do you know that art pieces can add to that luxury feel you want for your bathroom? It's a bit tricky, but with the right pieces, your bathroom would have that classy look, uniqueness and character.
A secret to using wall art in your bathroom to add value and elegance is to understand the key factors that distinguish true luxury from over-priced kitsch. Wall art does not have to cost the earth. It is often the simple addition of a tasteful piece of art that can really update an old bathroom and turn it into a modern haven of relaxation and coziness. If you are thinking of redesigning your bathroom, these top tips on how to use art pieces for your bathroom will help to guide you through the process.
It Doesn't Have To Be Overly Expensive
While luxury is often associated with expensive things, you can actually achieve an expensive look using art pieces that are quite cheap, alongside those complete bathroom suites for sale at your favourite online shop. In reality it is often just the absence of extreme visual clutter that marks luxury and this is why most luxury bathrooms feature a minimalist focus on just one luxury item.
The key to making your luxury bathroom stylish without spending a fortune is to create visual balance – a carefully chosen art piece can help you with that. While it's a problem that most home designers have no patience for, with careful planning and the incorporation of clever lighting, you can achieve this balance and create the atmosphere of a spa. Who doesn't want a spa? Only a very few people, for sure.
See How The Art Piece Goes With Your Flooring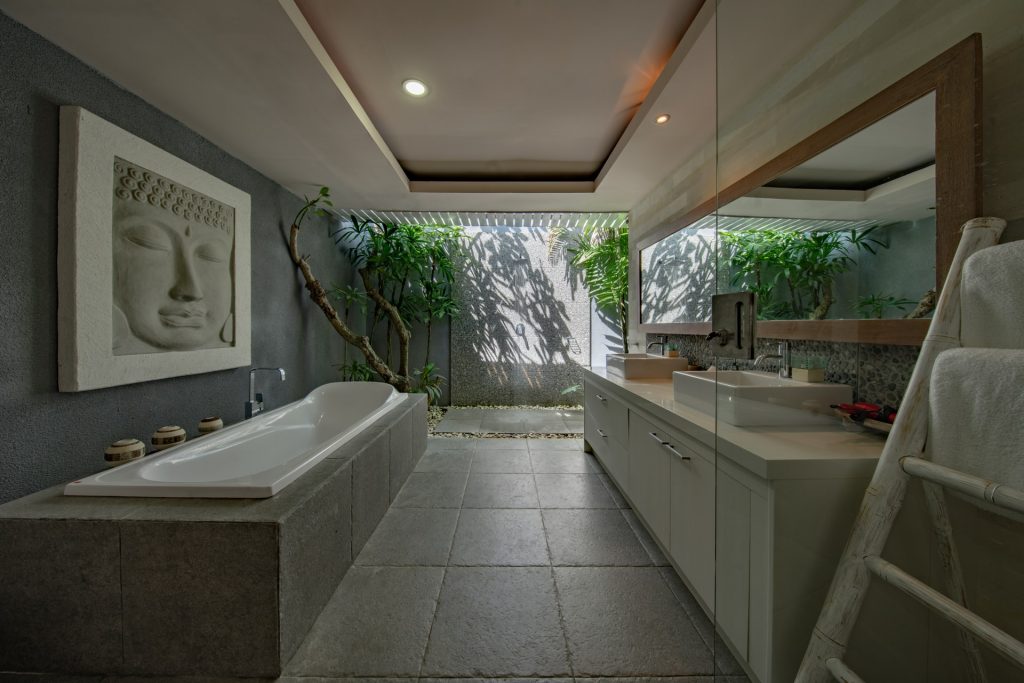 Choose your art piece the way you choose your bathroom floor tiles – do it carefully and select a luxurious natural tone. If you've opted for a floor made of marble, granite or slate to create a luxurious look that stands out from the cheap grout and basic white tiles, these materials easily make any art piece stand out and so you may want to choose small pieces that look like they go together, and preferably in one colour, or you could just go pick one daring art piece. Floor tiles that are rich in tones such as eggshell and beige create an opulent effect in your bathroom – especially if they are understated and incorporate a design element such as a floral pattern design – and fit is the same way with art pieces. A luxurious bath, floor tiles and an art piece or two or even more can help set the mood in your luxury bathroom and can provide that interesting contrast in your own private sanctuary. For more tips on creating that luxurious bathroom, there are articles you can find through a search on Google.
The Right Colour
Colour is another area that should be considered when looking for an art piece in your luxury bathroom. It can be very tempting to choose an eye-catching colour scheme that will wash out the design elements of your bathroom but remember that it won't cause visual clutter and instead would be stressful to look at due to the clashing colours. The less flashy, the better, so if you can, avoid colours that are too loud. It's still best to stick to neutral colours such as cream or beige so that you do not distract from the entire design and you'll be able to create a sense of space in your bathroom.
Be Careful With Embellished Shower Trays & Vanities
Although luxury bathroom designs feature more highly embellished shower trays and vanities, it is advisable to avoid using these because these can add an air of overspill and overflow. One alternative is to use a simple glass or acrylic shelf unit. Although these are usually manufactured from cheaper materials, a good quality glass shelf unit can still provide a beautiful effect in your luxury bathroom and would feature your chosen art piece nicely. Corian or marble shelves are also a nice addition to a luxury bathroom, particularly if you want to add a luxurious touch. There are bathroom items that use modern, clean lines that still bring in that expensive look. You can check out the Trading Depot bathroom furniture sets.
A luxury bathroom does not have to break the bank in order to create a luxurious atmosphere. With a little bit of thought and research, it is possible to design a bathroom that has all of the features that make a luxury bathroom so appealing. One stunning piece of art may just be what it needs.
A minimalist bathroom, with its focus on practicality and functionality, is ideal for those who prefer a clean-lined, minimalist style, which makes it quite challenging to choose which art to use. When it comes to minimalism, sculptures are great, and as there are lots to choose from, you would have to do a bit of research in order to pick the right ones for you.
Even for those who like to use a lot of design options and are not worried about spending a lot of money, it would still be helpful to know that there is a way you can achieve that their dream bathroom can be designed to achieve a sense of luxury without breaking the bank, so they get to use their extra money in upgrading other spaces of their home.